The team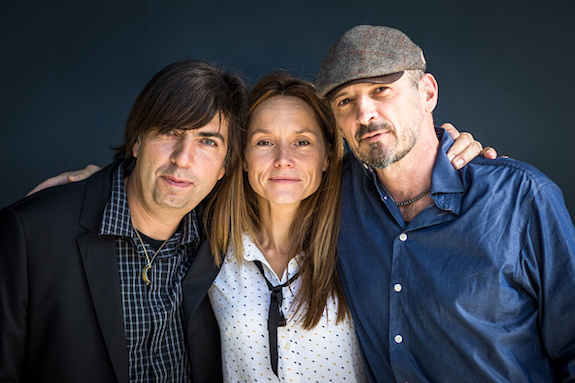 Andy Byatt
Andy Byatt's lifelong fascination with nature founded an award-winning film career, including 19 years working for the BBC Natural History Unit. Specialising in the underwater realm, he was a key player in the BBC's landmarks, the feature film Deep Blue (2003 - grossing $34 million in the box office), "The Blue Planet" (2001) and "Planet Earth" (2006).
He left the BBC in 2007 to take his young family sailing so that they could have new experiences of wildlife and cultures for themselves, in the Caribbean and USA. They developed a healthy respect for hurricanes during long summers of waiting for the season of risk to pass.
---
Cyril Barbançon
Cyril Barbançon was born in 1971 in the Haute Savoie in the French Alps, he spent his early years with his family in the mountains, experiencing the joys and hardships of rural isolation.
In 1998, he made his first documentary film « The Red Dwarf » about the life of red squirrels. The film was broadcast internationally and won numerous prizes in festivals.
On the heels of this experience, he went on to direct films for Arte, France 5, France 3 and Canal Plus. At ease with camera technology and the information systems which have revolutionized digital photography, he traveled widely, as a DOP and director, filming a multitude of species from killer whales in Antarctica, to penguins, humpback whales, lynx, bats, marmots and wolves. He built up a solid experience both technical and in the field.
A meeting with Alain Derobe (the 3D pioneer in France) in 2009 offered Cyril a new challenge in the technicality of stereo images. In order to shoot his first films in 3D, he built his own 3D rig.
In 2010 a discussion in the middle of the desert on a shoot with Jacqueline Farmer marked the beginnings of making a film for cinema about the wind. « Hurricane : a Wind Odyssey » 4 years of shooting 3D imagery across the world, in the heart of hurricanes, were to follow.
---
Jacqueline Farmer
A childhood close to the land and nature founded Jacqueline Farmer's lifelong interest in attempting to understand the natural world and our place in it.
Following post graduate studies in biology and broadcast journalism, she went on to work for the BBC World Service, Radio France International, and various press outlets before joining Saint Tho- mas in 2002, where she has helmed award winning science and natural history projects as a director and producer for the past 13 years, working with National Geographic, Discovery, France 2, Arte, Channel Four, NHK, TVE, SVT etc. on numerous films and series. « Hurricane » is her first feature film.
---
Frédérique Zepter
A film graduate in France and the US, Frédérique Zepter became a copywriter, a script doctor and script editor, a writer and in charge of scripts for various production companies. After London and Los Angeles, she moved to Brazil for various years, where she studied and filmed candomblé. She wrote the script's basic story and structure, inspired by the 70s classic film 'Vanishing Point'.
---
Artistic credits
A film by
Cyril BARBANÇON
Andrew BYATT
Jacqueline FARMER
Written by
Frédérique ZEPTER
Philippe BLASBAND
Olivier LORELLE
Music by
Yann TIERSEN
Additional music
Catherine GRAINDORGE
Thomas TILLY
The voice of
Paloma Garcia Martens
---
Technical credits
Producer
Jacqueline FARMER
Head of production
Jean-Yves ASSELIN
Production
Patrick BAQUIER
Philippe LEVY
Caroline HOUBEN
Caroline RADFORD WEISS
Candice FALESSE
Armelle CHEMINEE
Emmanuelle MARTIN
Keebe KENNEDY
Co-produced by
ORANGE STUDIO
Olivier RAUSIN
Bertrand LOYER
Puerto Rico
Do More Productions PUERTO RICO (Frances LAUSELL DIAZ)
Cuba
In association with Cabana Del Audiovisual-ACV, chaired by Ricardo MIRANDA COSTA
United States of America
EXCELSIOR PRODUCTIONS (Amber Maitland)
Senegal
Médiatik Communication SA (Moctar BA) et Vision Communication (Babacar Mamadou SECK)
Philippines
Old Fool Films Inc, Joanna VASQUEZ ARONG
Director of photography and stereoscopy
Cyril BARBANÇON
Camera operators
John JACKSON
Pierre PETIT
Stereography – Shooting – Machinery and equipment
Keir CAMPBELL BYATT
Raphaël PALIN SAINTE-AGATHE
Philippe PIRON
Colas BESNARD
Juan SEPULCHRE
Noari DRAGH
Claude TARDY
Gérome IACHKINE
Underwater camera operator
Roberto RINALDI
Specials effects
BENUTS
Sound
Yves BEMELMANS
Fabrice OSINSKI
Film editing
Luc PLANTIER
Philippe RAVOET
Sound editing
Frédéric DEMOLDER
Yves RENARD
Raphaël ANDRIEU
Emmanuel de BOISSIEU
Sound effects
Olivier THYS
Mixer
Emmanuel de BOISSIEU
Post-production
Ingrid RUBBENS
Olivier REY