Hurricane : synopsis
A force so powerful it was revered as a deity by ancient civilizations. "Hurricane" is the journey of one such storm named Lucy, which explores these weather systems' true meaning to our daily lives.
Drifting across the planet, Lucy's winds encounter intimate stories of nature and mankind. Throughout the film these are given resonance by the reflections of hurricane survivors, whose personal experiences are at times deeply moving, at times inspiring and at times breathtaking in the scope of their vision.
To follow the formation of the storm earth is viewed from space. Three-dimensional imagery accentuates the unique perspective of astronauts following Lucy's evolution into greatness. The epic begins in Africa. Lucy's capricious nature is revealed as a sudden howling sand storm engulfs a town with fear but is also herald to the coming of the monsoon: rains that gift new life to the plains of Senegal.
From bubbling clouds embarking on a three thousand mile journey across the Atlantic Ocean, Lucy is transformed into a raging monster five hundred miles across. Revolving slowly through the Caribbean and gathering strength – she destroys the forests of El Yunque in Puerto Rico, shatters coral reefs fringing the south coast of Cuba and forces an immense surge of storm tides deep into the Gulf State of Louisiana in the United States.
Meteorologists and emergency crews battle valiantly to predict the storm's path, strength and threat to the public but, unheeding Lucy shatters communities in Cuba where she strikes as a full category 4 hurricane with winds of over 130 miles per hour. Entire neighbourhoods destroyed: both young and old coming to terms with loss and grief in their new dawn. Nature suffers her fair share too, with deaths, injuries and habitats lost.
While we explore the intimate chaos of houses and lives laid waste, the human witnesses of hurricanes speak to us one final time. Their message is not one of depression and hopelessness. Far from it: for them the hurricane imparts strength of new purpose; visions of an exuberant nature revitalized by the storm; hopes to rise up anew and create a better future.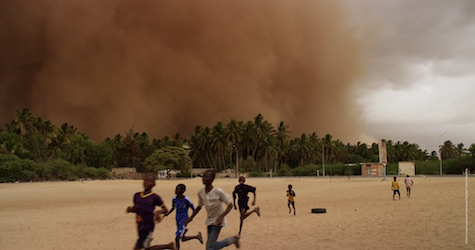 Movie storyboards